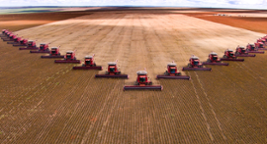 Brazil has a rapidly growing economy and is highly invested in Biotechnology and the Life Sciences.
Understanding the Intellectual Property landscape of Brazil is key for a global life science company's success.
Our whitepaper talks more about biotech patents and an gives an example of how to blast search them.
---
Here are three reasons why Brazil is a critical component of your IP strategy:
World Leader in Agriculture: Brazil is the world's second largest Agriculture Market in the world.1 Brazil a major exporter of maize and is the world leader in production of soybean, sugar, and coffee.
Focus on Biofuels: The country emphasizes the production of biofuels, mainly sugarcane Ethanol. (Pretty sweet.)
Licensing and Collaborations: Brazil is a major licensing and collaborations partner in all areas of biotechnology.2 Nearly three quarters of all of its licensed patents originate from its universities and research centers.
---
Let's cut to the chase, patents are the most important tools for protecting R&D capabilities in Brazil's highly competitive biotech sector. US entities – who are responsible for over half the biotech patent filings in Brazil – clearly value protecting their intellectual property there.
We're here to help. GenomeQuest is pleased to announce a highly comprehensive Brazilian DNA and protein sequences patent archive that is available through GQ-Pat Platinum. GenomeQuest offers a collection of manually-curated documents ensuring the highest accuracy for sensitive biological sequence IP searching, facilitating your freedom to operate.
Download Brazilian IP Whitepaper
---
Try GenomeQuest Today!